January Term 1 begins on 23rd January, hit contact us to find out more!


WHICH CLASS IS RIGHT FOR YOU?
We have structured our classes into three levels, beginners, intermediate and advanced. Read on to see the key skills for each level. When you book in, we will discuss with you the best level for your child. We are happy to talk to you about progress, practice and the best ways to move forward.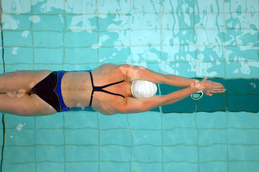 ADULTS
This is a mixed ability session, for beginners through to advanced adults. The aim of this session is to give stroke analysis and feedback and to teach a variety of drills and training options to improve your swimming. These sessions can be paid for in blocks of 5 or individually, just message Katie for more information.

Txt 0457352322 to go on the list to get weekly updates and reminders for adult group sessions


---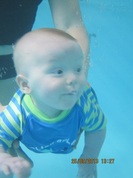 BABIES / TODDLERS - Avilable year round at HOME POOL, avilable terms 4 and 1 at Sportsworld fitness

These are water confidence sessions aimed at giving you the parent ideas, games and play, to introduce your child to the water and build their water skills.
Through songs and chants, the aim is to build familiarity with repeated cues. These cues prepare the child for each stage of the session. For example readiness to go under the water with the use of verbal, visual and manual cues.
---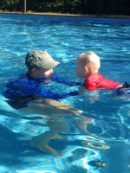 Transition

Done all the nursery rhymes? Mastered cueing before jumping and going under the water? Looking to introduce more skills to your little one? This class gives you a gradual exit from the water and looks to introduce those beginners skills like the body position in the water (Rocket ships).
---
Beginners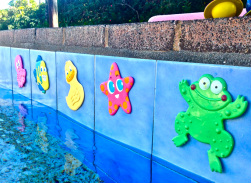 To enter this initial level, your child will need to be able to safely participate by being able to follow basic instructions and be in a class without their parent or guardian.
Top ten skills we will be working towards
Can follow direction, enter and exit the water safely
Torpedo / Rocket, glide out to teacher 2m
Whole Face in the water – can collect a submerged toy
Blow bubbles
Monkey on the wall
Travel 5m on front or back unassisted to the side or stairs
Starfish float on back unassisted for 5 seconds
Starfish float on front un assisted for 5 seconds
Can show arm circles coming out of the water
Can answer questions about water safety
---
Intermediate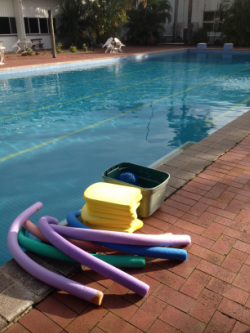 Top ten skills learning in this level
Torpedo / Streamline good technique – 5 m

Front float rotating to back float unassisted

Can safely enter and exit the water unassisted

Arms Out of the water freestyle showing breathing to the side

Arms out of the water backstroke

Shows a recognisable breaststroke action

Can perform an introductory dive

Can retrieve a sunken toy from the bottom of the pool unaided

Can shows an butterfly leg action

Can answer questions about water safety
---
Advanced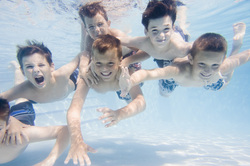 Top ten skills learning in this level
Torpedo into freestyle good technique
Freestyle - with bilateral breathing good technique - 25m
Back stroke good technique - 15 m
Breaststroke with good timing and technique
Can perform a safe dive entry
Can swim multiple 25m
Can show butterfly body action and initial arm action
Show initial knowledge of squad techniques
Can retrieve object from full reach depth
Able to answer water safety questions and shows water safety techniques
---
Mini Squad and Youth Fitness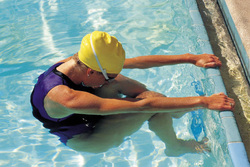 This group is for those students who have mastered inital stroke techniques and are looking to develop them and learn more about skills of squad swimming. The hour long session, gives them oppourtunity to increase fitness and distance with close monitoring on keeping good technique.
Implementaion and explaination of drills and modified stroke practices.
Appropriate in water and out of water starts.
Mulitple lengths during a session.
Ability to maintain technique over distance.
Turning technique for each stroke.
Ability to create space and ettiqutte of swimming with a group.
Initial use of working from a displayed swim set.
---